Bandera: Cowboy Capital of the World the real deal

Originally published in the Sunday, April 8, edition of The Austin American-Statesman. Reprinted with permission.

By Pamela LeBlanc - AMERICAN-STATESMAN STAFF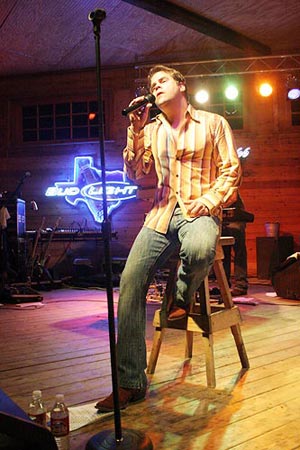 Sunday, April 08, 2007
BANDERA — When Tom Parker found out that a college buddy from Japan would visit him in Texas, he plotted a vacation full of neon-lighted honky-tonks and grizzled old cowboys.
He and his guests wound up in the self-proclaimed Cowboy Capital of the World — Bandera. And as Parker found out, the town best known for its nearby dude ranches, where tenderfoot tourists impersonate Roy Rogers, has a thriving "city" scene as well.
"It's very fantastic. People are friendly and the barbecue is really good," Parker's friend Yutaka Shimomoto says, his arm around 14-year-old daughter Yuko, who is wearing a new pair of cowboy boots and clutching a toy bow and arrow.
They pause on the sidewalk of this weather-beaten town, then head toward the Cowboy Store, where the big sellers are boots, hats, belts and buckles. We bump into them several more times — at the bustling Bandera General Store, where customers are perched on stools slurping sodas, and in a dimly lighted basement bar called Arkey Blue's Silver Dollar, where some seriously gen-u-ine looking cowpokes are making music.
All this on a Wednesday afternoon, in a Hill Country burg with a population of about 1,000, just two-and-a-half hours southwest of Austin.
Apaches and Comanches once lived in these parts before Polish immigrants moved in. Bandera sprouted as a staging area for cattle being driven — up to 3,000 at a time — along the Great Western Trail Drive to Dodge City and on to Nebraska. The Medina River curls around the town in a watery embrace, and in summer residents and tourists alike leap into it from trees and float along it on inner tubes.
Today, though, the city banks on its cowboy image, which funds the bustling tourism industry here. The city's Frontier Museum sets up displays of chuckwagons and horses near the courthouse on summer weekends, and costumed cowboys and cowgirls roam the streets, mingling with visitors. Rodeo season begins in May and continues through Labor Day, when it culminates with a professional bull riding extravaganza and a real longhorn cattle drive.
Everyone seems to get in on the act. Or is it one?
At the Bandera General Store, old-timer Gene Fee, 78, is drinking a cup of coffee and toying with the customers. He says he was born in Bandera. Or, rather, "I think I was an old crows' egg dropped on a flat hot rock," he says.
He eyes the college students at the soda fountain. They're here on spring break, all the way from St. Norbert College in Wisconsin. "We're Yankees, posing as cowboys," says Nick Barbian, 20, a junior business and communications major wearing an ice cream mustache.
The general store was built in the late 1800s, according to co-owner Sheila Click. Since then, it's served as a movie theater, a dance hall and a furniture store.
"This was the first theater I ever went to," Fee pipes in, from across the room. "I saw 'Gone With the Wind' here."
We're lost for a moment, imagining a small town crowd shuffling to find seats under this roof to watch Scarlett O'Hara and Rhett Butler spar. But we've got more town to explore, so we listen to Click's suggestions.
Describing Bandera as a college town for old-timers, she directs us to Arkey Blue's Silver Dollar, in the basement of the building next door. We descend the steps into the bar and nearly gasp when our eyes adjust.
A trio of cowboys who look like they just walked off a John Wayne movie set are strumming guitars, a sleeping dog at their feet. The place is comfortably packed — students, retirees and a group of motorcyclists dressed in Harley T-shirts. After a few more minutes, a fourth cowboy shows up and starts to play a stand-up bass.
"This is the best thing about here," says Lee King, of Covington, La., waving his hand to acknowledge the band. "No glitter, no glitz. Just good music."
He's part of a group of eight or 10 guys, their wives gone to Fredericksburg to shop, gathered at a long wooden table, drinking beer and hooting at the music.
Arkey's, it turns out, first swung open its doors in the early 1940s. The floors are buried in cedar shavings, the ceiling covered in stamped tin. A bartender makes the rounds, handing out cold drinks. Light filters in from the back door, which is propped open.
"Bandera is the holdout for traditional country music," says the lead musician, Gary Wright, who plays here regularly. "I'm an old-school country guy, and this is where people come to dance. It's the last bastion of traditional country music in the world."
We kick back for a couple hours, then follow some more local advice and head toward the Super S grocery store to pick up some grub for dinner. It's Wednesday night, after all, time for the weekly "steak out" at the 11th Street Cowboy Bar.
When we stroll into the 11th Street Cowboy Bar that evening, it looks like the whole town has turned out. Half a dozen barbecue grills as big as dining room tables are blazing away on the patio, people are seasoning up steaks, shrimp and pork chops at a special station, and a band is playing "Waltz Across Texas" from the outdoor stage. We queue up with the rest of Bandera, forking over $2 for a plate of salad, bread and beans to go with our steaks. Then we belly up to the barbecue pit and get busy.
"People come here looking for a taste of the old West and they get that in Bandera," says resident Marcia Toepp as we settle in to sample the fruits of our labor. "The friendliness is genuine."
"We're not trying to sell cars; we say hello and we mean it," agrees her husband, Barry Toepp.
Up on the stage, the Bandera Regulars — headed by Doug Livingston and his wife, Carol — are belting out a few cowboy classics. The Livingstons moved here in the '70s for the dancing and laid-back lifestyle. That and the cowboy culture.
"That's why tourists come here from all over — they want to see a cowboy, and there's a lot of cowboys here — and then there's a lot of us who just wear the hats and play music," Doug Livingston says.
Little white lights twinkle in the oak trees. We chat with our new-found Bandera buddies. Among those who stop by are country musician Clint Black's brother, Brian, who moved here in February. He tells us about his plans to renovate the old Longhorn Bar along the Medina River, opening a bar, restaurant and, eventually, music recording studio.
"I like the spirit of the people, the beauty of the land and the fact that when you come here it's a very hard place to leave," Black says. "Everyone makes you feel like a resident."
We know what he means.
pleblanc@statesman.com; 445-3994
If you go . . .
We stayed at the Boarding House, 610 11th St. (830) 796-4829. Rooms have a fully equipped kitchen, with snacks and breakfast items provided. Rooms, with tax, are about $120 (discount for longer stays).
The OST Restaurant, 305 Main St., (830) 796-3836, serves diner food. El Jacalito Mexican Restaurant, 306 11th St., (830) 460-3853, serves Mexican food in a cozy bungalow.
Arkey Blue's Silver Dollar, 308 Main St., (830) 796-8826, has been in operation since the 1940s. The 11th Street Cowboy Bar, 307 11th St., (830) 796-4849, hosts a "steak out" every Wednesday with free music and grills to cook your own meat.
The Bandera General Store, 306 Main St., (830-796-4925) serves old-fashioned sodas and sells souvenirs. Learn about Bandera's history at the Frontier Times Museum, 510 13th St., (830) 796-3864. Admission is $5 for adults, $3 for seniors, $1 for children ages 6 to 17.
For more information, visit Bandera Convention and Visitors Bureau's Web site at www.banderacowboycapital.com, or call (800) 364-3833.
Related Links
The Austin American-Statesman